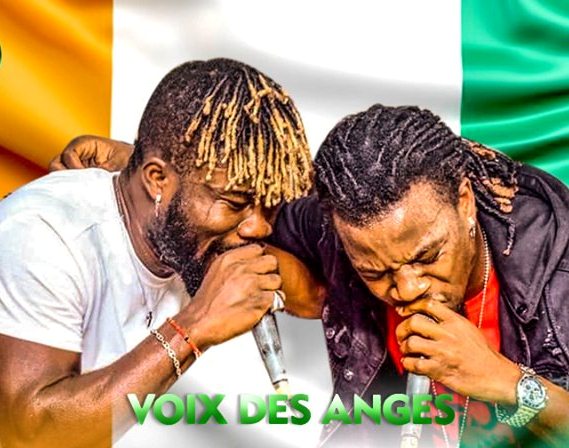 VDA (VOIX DES ANGES) (Artist Biography, Lyrics and Albums)
Côte d'Ivoire
V.D.A. (Voix Des Anges) is a Zouglou music group from Cote d'Ivoire. The Ivorian Zouglou duo is made up of Bah Diezon Nimcemon Vianney better known as Jim VDA and Kouko Koré Samuel, better known as Pitch
V.D.A. (Voix Des Anges) is a Zouglou music group from Cote d'Ivoire. The Ivorian Zouglou duo is made up of Bah Diezon Nimcemon Vianney better known as Jim VDA and Kouko Koré Samuel, better known as Pitch VDA. The group was created in 2012 in Daloa. It was then made up of 3 members; but for professional reasons the 3rd member left the group quite early.
The group made its debut in music through plive performances and the animation at events and parties. In 2014, Jim and Pitch settled in the town of Tabou, in the western part of Côte d'Ivoire. The group released "Cris du Coeur" for the victims of Ebola in neighboring Liberia.
After Tabou, the group later settled in San Pedro. In 2017, the duo VDA released their first album entitled "la Main de Dieu (The Hand of God). "La Main de Dieu" is an album of six-tracks produced by Bahi Antoine in which is fund the single " Hommage à DEZY CHAMPION " which was a hit and allows them to rise to fame and get known by the ivoirian public. In 2018, they released the single "Socogi the best neighborhood in Abidjan which is also very successful.
The Ivorian zouglou group Voix des Anges (VDA) returned in 2020 with a second album entitled "Notre Exploit", produced under the label Shama Production.
VDA (VOIX DES ANGES) Profile & Lyrics. VDA (VOIX DES ANGES) has a total of 6 Song Lyrics and Featurings on Afrika Lyrics. Country : Côte d'Ivoire. Genre : Zouglou, RnB, Afrobeats, Afropop, . Follow VDA (VOIX DES ANGES) on the social networks Facebook, Twitter, Instagram and Youtube by clicking on the icons below.
Country
Côte d'Ivoire

Albums by VDA (VOIX DES ANGES)
More Artists from Côte d'Ivoire
Get Afrika Lyrics Mobile App
Afrika Lyrics is the most diverse collection of African song lyrics and translations. Afrika Lyrics provides music lyrics from over 30 African countries and lyrics translations from over 10 African Languages into English and French
© 2023, We Tell Africa Group Sarl